Homes Just Listed For Sale in New Orleans' French Quarter
Below are homes listed for sale in the last five days in the French Quarter.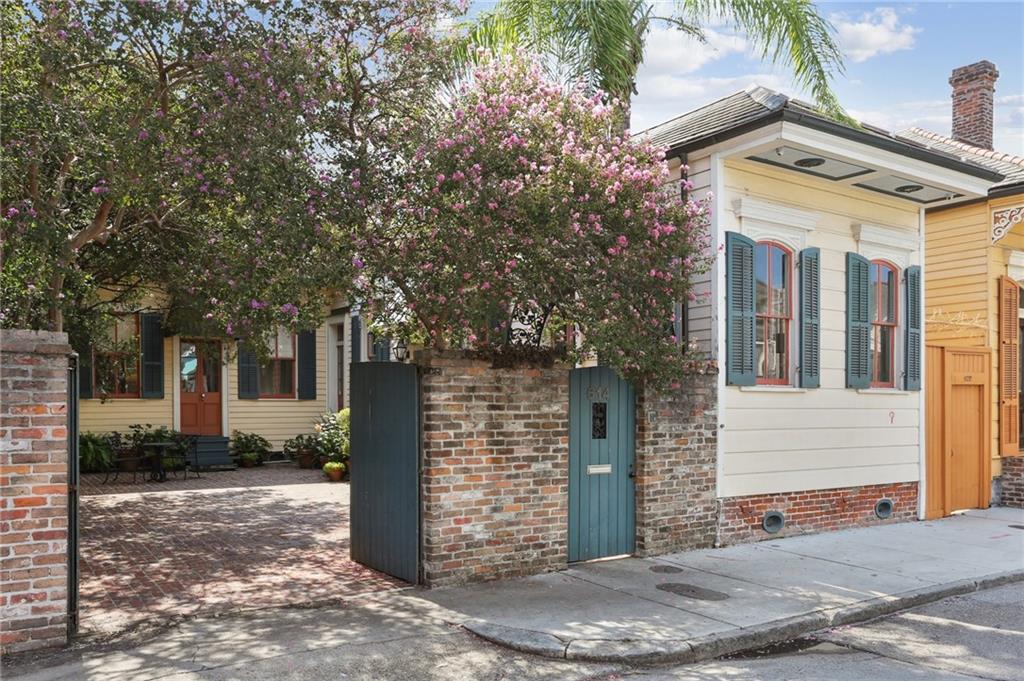 $1,025,000
Active
614 Barracks Street New Orleans, Louisiana
2 Beds 2 Baths 1,240 SqFt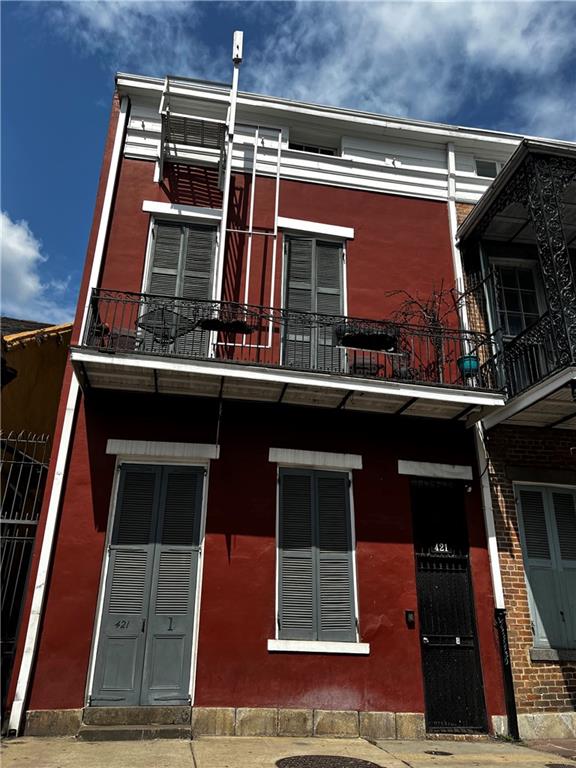 $242,000
Active
421 Burgundy Street 6 New Orleans, Louisiana
1 Beds 1 Baths 421 SqFt 0.006 Acres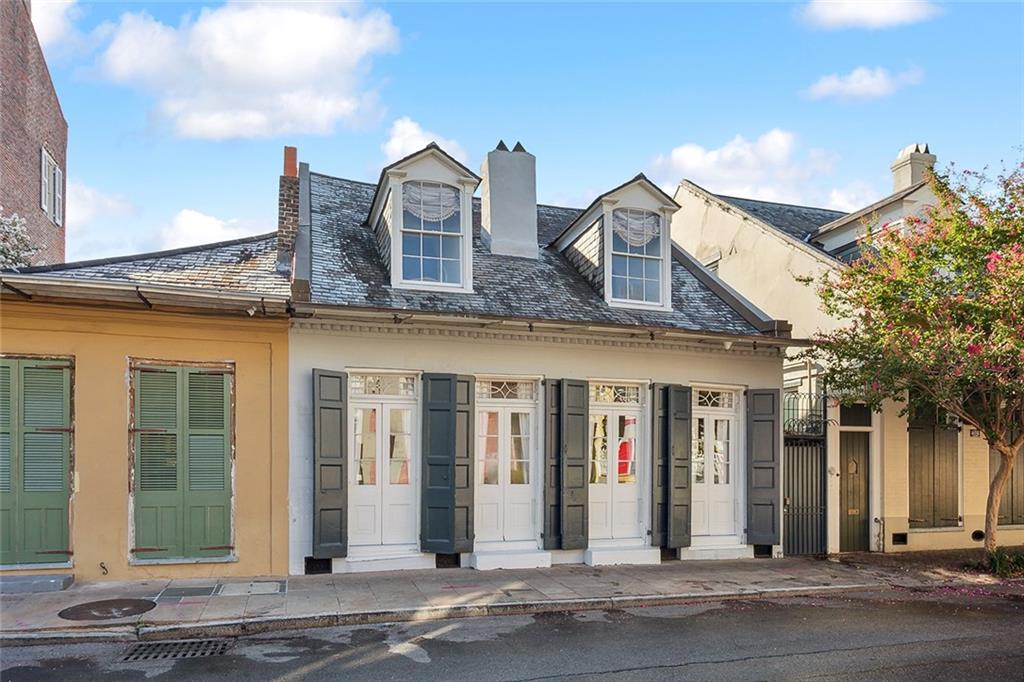 $3,250,000
Active
1118 Burgundy Street New Orleans, Louisiana
4 Beds 7 Baths 4,000 SqFt 0.090 Acres
French Quarter History
New Orleans' French Quarter is among the best preserved and most beautiful historic neighborhoods in the United States.  In 1718, the Quarter was chosen by Jean Baptiste Le Moyne, Sieur de Bienville, a French Canadian explorer acting on behalf of the French crown, as the site for France's lower Mississippi River settlement.  The Quarter's present day street pattern, a symmetrical sixty-six block grid, was established by Adrien de Pauger, a French military engineer, in 1721-22.
The French Quarter's unique architectural mix reflects the city's colonial history and ethnic makeup. During its period of French control, from the city's founding in 1718 to 1766, when Louis XV ceded New Orleans to King Carlos III of Spain, the predominant architectural style was of a French-Colonial, West-Indian inspired variety.  Unfortunately, due to devastating fires in 1788 and 1794, only two structures from this era remain in the French Quarter: the Ursuline Convent, which was completed in 1753 and is the oldest structure in New Orleans and in the lower Mississippi Valley, and Madame John's Legacy, a residence on Dumaine Street that is now a National Historic Landmark and Louisiana State Museum.
During the period of Spanish control following the fire of 1794, most buildings were reconstructed with Spanish architectural features: brick exteriors covered with stucco, flat or gently sloping roofs, arched openings on the ground floor, pilasters, balconies and courtyards. Most of the remaining buildings exhibiting this pure Spanish Colonial style are located on Royal and Chartres Streets, which run parallel from Esplanade to Canal.
After the Louisiana Purchase in 1803, a mixture of architectural influences from France, Spain, the West Indies, Africa and Latin America evolved into a Creole style characterized by Spanish-style arched openings, stucco, steep hip roofs, wrought-iron balconies and multiple stories. Many buildings in the French Quarter reflect this post-colonial Creole style.
The Americans who flocked to New Orleans in large numbers following the Louisiana Purchase brought with them the predominant architectural style of the era, Greek Revival, which largely supplanted the Creole style in the 1830s. This Greek Revival style is most prominent in the upper blocks of the Quarter (those closest to Canal Street), an area that following the Louisiana Purchase came to be considered the "American" part of the city center, while Creole styles are more predominant in the lower or "Creole" section of the Quarter, the dividing line of which is debatable, though historically many considered it to be St. Louis street.
The principal building types found in the Quarter on which the various styles discussed above are exhibited are the townhouse, the storehouse, the cottage, and the shotgun house.
New Orleans French Quarter Map
Quick Facts about The French Quarter
Quick Facts
Population (2010): 3,888
Zip Codes: 70116, 70112, 70130
Median Listing Price: $460,000
Median Price/Sq Ft: $504
County: Orleans Parish
School District: NOLA Public Schools
Travel & Commute Times
New Orleans: 7 mins
Broadmoor: 12 mins
Lakeview: 14 mins
Things to Do
See below for a full list of Bars, Restaurants, Music Venues, Shopping, Banks, Dry Cleaners, Places of Worship and more!
French Quarter Real Estate Market Stats
French Quarter Amenities
The French Quarter is host to classic restaurants, legendary bars, high-end antique shops, women's and men's boutiques, and world-class music venues, not to mention beautiful public spaces and a vibrant street performance scene centered around Jackson Square and Royal Street
French Quarter Restaurants
Among the French Quarter's best restaurants is Restaurant Revolution, the culinary home of one of Louisiana's foremost Cajun-Creole cooking authorities, John Folse, and his Chicago partner, Rick Tramonto, who made his name at Tru, a fine dining restaurant in Chicago.  Revolution offers expertly prepared grilled meats, both rustic and sophisticated pasta dishes, fresh Louisiana seafood, Cajun and Creole classics and a top notch in-house charcuterie program.
Also atop the list of the Quarter's finest restaurants is Galatoire's, a New Orleans institution that first opened its doors on Bourbon Street in 1906.  Since its founding by Jean Galatoire, a Frenchman, it has achieved iconic status for its classic Creole dishes and its legendary Friday lunches, for which patrons often wait in long lines and stay seated into dinner service.
Bayona, located on Dauphine Street in a beautiful Creole cottage with an elegant courtyard, is the home of legendary local chef Susan Spicer. Chef Spicer opened Bayona more than twenty years ago and has since gained local and national accolades for her sophisticated cuisine reflecting European, Asian and African influences.
Nola is the French Quarter destination of New Orleans' most famous celebrity chef, Emeril Lagasse. Casual and funky in style, Nola turns out expertly prepared modern interpretations of Cajun/Creole classics.
Since opening in a renovated carriage house on Chartres Street, Sylvain has stood out for its sophisticated speak-easy ambience, its bistro classics like duck confit and pasta bolognese and for its joie de vivre approach to dining evident in such menu offerings as a french fries and champagne combination appetizer.
Doris Metropolitan is the premier steak house in the French Quarter, if not in all of New Orleans.  Its prime meats are dry aged in house, and its eclectic menu also includes interesting items such as an artichoke flower salad and a charred eggplant, which highlight the middle eastern heritage of its proprietors.  Doris' wine list is expertly curated, and its attentive but unobtrusive service is top notch.
Brennan's, operating since 1946, is a New Orleans classic, a heavyweight in a city of legendary restaurants.  Known for popularizing brunch, and such dishes as Bananas Foster and Turtle Soup, Brennan's also excels at dinner.  Expect classic French table side preparations of select dishes, beautiful surroundings (the restaurant underwent an extensive dollar renovation in 2014), an extensive wine list, and a convivial bar scene in their Roost Bar.
French Quarter Bars and Music Venues
Bars in the French Quarter run the gamut from Bourbon Street tourist meccas to neighborhood haunts frequented by French Quarter residents.
Cosimo's: Topping the list of French Quarter bars is Cosimo's, a lower-Quarter neighborhood institution on the corner of Burgundy and Governor Nicholls St.  With a dark wood decor, low lighting and a great soundtrack, this spot is the favorite of many service industry employees and lower Quarter residents.
The Chart Room: Another great French Quarter bar in the upper Quarter, i.e., closer to Canal, is The Chart Room, located on the corner of Chartres and Bienville, where the doors open onto the street, patrons linger on the adjacent sidewalk, the music's great and the drinks are reasonably priced.  A favorite of locals and in-the-know tourists.
Laffite's Blacksmith Shop: Located in an old Creole Cottage on the less-traveled end of Bourbon Street, Laffite's is considered the oldest structure used as a bar in the United States.  Its name references the fact that it is said to be a building from which the Laffite brothers – notorious smuggler-pirates who are credited with assisting Andrew Jackson in repelling the British advance on New Orleans during the War of 1812 – operated. Dark, ramshackle and full of character, Laffite's is a laid-back alternative to the typical Bourbon Street bars and a favorite of locals and tourists alike.
Fahy's: Fahy's is an Irish bar on Burgundy between St. Louis and Toulouse Streets.  With an inviting staff, a diverse crowd, pool tables and reasonably priced, generously poured drinks, this bar is another favorite of French Quarter residents and service industry workers.
Arnaud's French 75 Bar: For classic New Orleans cocktails such as the Sazerac and the Vieux Carre, Arnaud's French 75 Bar is a must. Their expert bartenders honor New Orleans' glorious cocktail past with their attention to detail and professional service.
Preservation Hall: This local treasure is a New Orleans institution dedicated to preserving and presenting to the world the traditional style of jazz first created in New Orleans.  Founded in 1961, the Hall operates as a touring band, a live music venue and a non-profit.  Most nights of the year, you can visit Preservation Hall, located on St. Peter Street, and hear master local musicians playing traditional jazz.
The Jazz Playhouse: Located in the Royal Sonesta hotel on Bourbon Street, The Jazz Playhouse is a proper jazz club, where one can see local legends such as Cyril Neville, Glen David Andrews and Shannon Powell on any given night, while enjoying craft cocktails and small bites. Also not to be missed is their burlesque review.
Fritzel's: Fritzel's is a European jazz hall that's been operating on Bourbon Street since 1969.  Like Preservation Hall, it's a showcase for the traditional style of jazz that originated in New Orleans and a magnet for international visitors to the city.
The Davenport Lounge: Located in the Ritz Carlton on Canal Street, The Davenport is the musical home of local crooner-trumpeter Jeremy Davenport, who you can find there Wednesday through Saturday. The Lounge is a fashionable spot with a feel reminiscent of Rat-Pack Vegas.
One Eyed Jack's: This is the French Quarter spot for alternative and indie music.  National indie acts stop here regularly and local favorites such as Eric Lindell favor the venue too, particularly during Jazz Fest and Halloween.  With its speakeasy interiors, intimate 400-seat performance space, and excellent bar, One Eyed Jack's is a fantastic place to see a show.
The Palm Court Jazz Cafe: Located on Decatur Street, The Palm Court is a restaurant and music venue with an impressive lineup of traditional jazz concerts.  Until his passing at the age of 103, Lionel Ferbos, a trumpeter and a contemporary of the likes of Louis Armstrong, Sidney Bechet and Henry Red Allen, could be found playing there once a week.
French Quarter Shopping
French Quarter Places of Worship
St. Louis Cathedral
St. Mark's United Methodist
Vieux Carre Baptist Church
French Quarter Schools
Homer A. Plessy Community School
French Quarter Banks
Hancock Whitney Bank
Chase Bank
Capital One
French Quarter Dry Cleaners
Washing Well Laundryteria
Suds Dem Duds
Additional French Quarter Attractions
The French Quarter Festival – a weekend-long music festival highlighting local acts that runs from April 9-12.
Jackson Square
Louis Armstrong Park (Congo Square)
Woldenberg Park
Aquarium of the America
French Quarter Neighborhood Resources
Vieux Carre Property Owners, Residents & Associates, Inc. – the French Quarter's property owner's association.
The Vieux Carre Commission – the New Orleans city government body responsible for the French Quarter's preservation and zoning.
Find French Quarter Homes For Sale With a Local New Orleans Realtor
Alex Peet is a local expert on The French Quarter neighborhood. When buying or selling real estate here, you want a real estate agent who knows the area and can guide you in the right direction. From investment properties to your first home purchase, Alex can help you find the perfect property in The French Quarter for your needs.
Call Alex at (504) 407-9012 or contact Alex online to tell him what you want in your next home. He'll start searching right away!
Homes for Sale in New Orleans French Quarter – 1-Click Searches
Below are some of the most popular search terms related to searching homes & real estate in the French Quarter New Orleans.
Homes for Sale in New Orleans French Quarter
French Quarter Real Estate | French Quarter Homes | French Quarter Condos
Search all French Quarter real estate by type and price.  Email me or contact me at 504-407-9012 to see French Quarter Homes & Condos of interest to you.
Be among the first to find out when new properties hit the market: click here to join my French Quarter Real Estate Email List.
French Quarter 1 Click Condo Searches
Use the quick search links below to instantly view condos for sale in your price range, or view the most recent condos listed in the French Quarter below.
French Quarter 1 Click Single Family Home Searches
Use the quick search links below to instantly view homes for sale in your price range, or view the most recent homes listed in the French Quarter below.