Just Listed Homes For Sale in Marigny New Orleans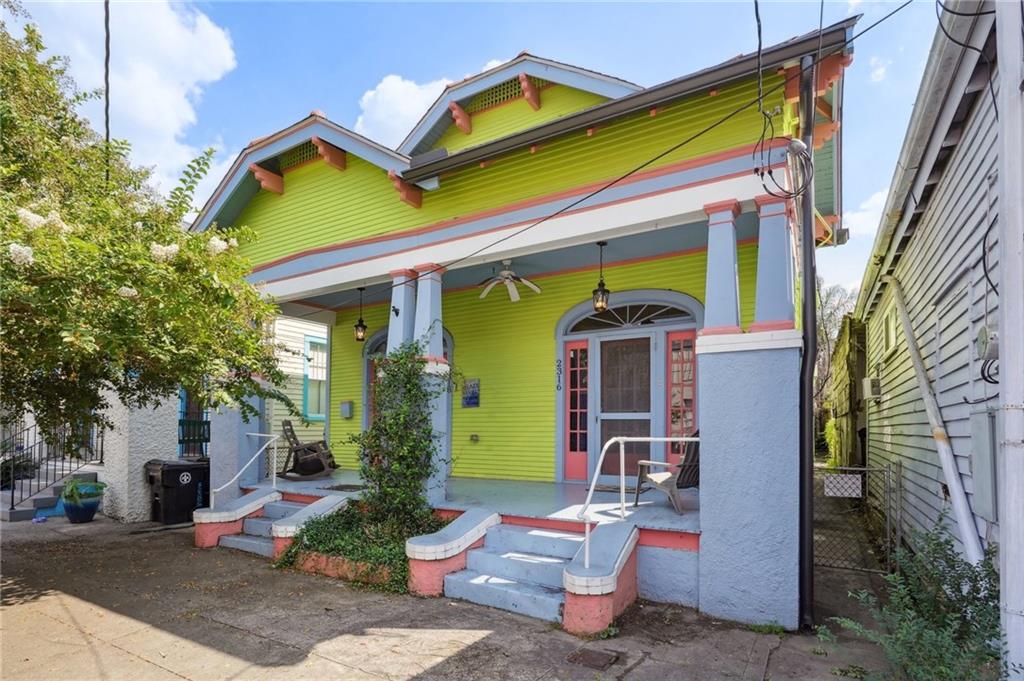 $699,000
Active
2316 N Rampart Street New Orleans, Louisiana
3 Beds 2 Baths 2,624 SqFt
Marigny Neighborhood History
In 1805, Bernard Marigny began to subdivide and sell off parts of his plantation, forming the first "faubourg" or suburb downriver from the Marigny. Originally settled by Creoles (descendants of the original French and Spanish settlers) and German and Irish immigrants, today the Marigny is a vibrant historic neighborhood that's home to artists, young professionals and families. The architecture includes Creole townhouses, Creole cottages and colorful shotgun homes.
The Marigny is divided by Elysian Fields Avenue, with the section of the neighborhood between Esplanade Avenue and Elysian Fields Avenue commonly referred to as the Marigny Triangle.
Faubourg Marigny Map
Quick Facts about The Marigny
Quick Facts
Population (2000): 2,128
Zip Codes: 70117
Median Listing Price: $575k
Median Price/Sq Ft: $320
County: Orleans Parish
School District: NOLA Public Schools
Travel & Commute Times
New Orleans: 7 mins
Broadmoor: 12 mins
Lakeview: 14 mins
Things to Do
See below for a full list of Bars, Restaurants, Music Venues, Shopping, Banks, Dry Cleaners, Places of Worship and more!
Marigny Real Estate Market Stats
Marigny Amenities
The Marigny contains one of New Orleans' most lively thoroughfares, Frenchmen Street, which is lined with music clubs, bars, and restaurants.
Marigny Restaurants
The Franklin is a recent addition to the Marigny that has quickly caught on with locals. With a menu reflecting French techniques applied to local ingredients, and a décor that's elegant yet restrained, the Franklin has raised the bar for dining in the Marigny.
Horn's is a casual neighborhood restaurant in the Marigny Triangle serving breakfast, lunch, and dinner seven days a week.
The Marigny Brasserie, located on Frenchmen Street, is a neighborhood institution, having been in operation for over a decade. With frequent live jazz in the bar, a chef-driven, New Orleans-centric menu, and an inviting, convivial atmosphere, the Brasserie is always a pleasure.
Mimi's in the Marigny, located on an increasingly revitalized Franklin Avenue, is the go to spot in the Marigny for Spanish-style small plates, which they serve until two a.m., an excellent selection of beers and wines and a hip, old world atmosphere.
The Orange Couch is a hip neighborhood coffee shop on Royal St. with fee wi-fi and plenty of indoor and outdoor seating.
Wasabi is the go to spot in the Marigny for sushi and traditional Japanese dishes.
Who Dat Coffee Cafe, on Burgundy St., is part-neighborhood coffee shop and part-restaurant, filled with neighborhood characters and some of the nicest staff in town.
Paladar 511 is a neighborhood Italian restaurant focusing on pizzas, pastas and seafood. They source the best ingredients and take great pride in presenting delicious dishes and well-curated wines in a lively, beautiful space that is often packed.
Marigny Bars and Music Venues
d.b.a. is one of the true gems of Frenchmen Street and a major nightlife draw with its rotating lineup of New Orleans music legends, world-class selection of beer and spirits and beautiful wood-paneled interiors.
Snug Harbor Jazz Bistro, also located on Frenchmen Street, is the spot for live jazz in New Orleans. With a line up ranging from local legends such as Stanton Moore and Herlin Riley to renowned national acts, and a menu of New Orleans bistro classics, you can't go wrong grabbing dinner and a show at Snug.
The R Bar is a popular watering hole in the Marigny Triangle that's famous for its ten dollar haircut and a shot special on Mondays (and yes, they do have an antique barber's chair in the bar) and its Friday crawfish boils.
The Spotted Cat is a delightfully ramshackle jazz club on Frenchmen Street where you can hear traditional jazz at its bohemian finest from such renowned local artists Meschiya Lake and the Little Big Horns, the Jazz Vipers, and the Panorama Jazz Band.
Three Muses is an intimate and well regarded Frenchmen Street restaurant and music club where you can sample sophisticated cuisine, imbibe expertly prepared cocktails and catch such local favorites as Glen David Andrews and Luke Winslow King.
Marigny Places of Worship
Marigny Schools
St. Paul Lutheran School
KIPP Leadership Academy
Additional Marigny Amenities
Crescent Park
Marigny Opera House
Washington Square Park
Marigny Neighborhood Resources
Faubourg Marigny Improvement Association
Find Homes For Sale in Marigny with a Local New Orleans Realtor
Alex Peet is a local expert on The Marigny neighborhood. When buying or selling real estate here, you want a real estate agent who knows the area and can guide you in the right direction. From investment properties to your first home purchase, Alex can help you find the perfect property in The Marigny for your needs.
Call Alex at (504) 407-9012 or contact Alex online to tell him what you want in your next home. He'll start searching right away!
---
Popular 1-Click Marigny Real Estate Searches
Below are some of the most popular search terms related to searching homes & real estate in Marigny New Orleans.
More Homes for sale in Marigny New Orleans
Marigny Real Estate | Marigny Homes | Marigny Condos
Search Marigny Real Estate by type and price. Email me or contact me by phone at 504-407-9012 to view Marigny properties of interest to you.
Be among the first to find out when new Marigny homes hit the market: click here to join my New Orleans real estate email list.
Homes for Sale in Marigny New Orleans – 1 Click Searches
Use the quick search links below to instantly view homes for sale in your price range, or view the most recent homes listed in the Marigny below.
Marigny Real Estate for Sale – 1 Click Searches
Use the quick search links below to instantly view real estate for sale in your price range, or view the most recent homes listed in the Marigny below.